MORELIA, Michoacan--Glamorous actors/actresses, style and flashing bulbs were no exception at this fabulous red carpet. As a newbie to the scene, I admit there were times when I was star struck. I mean, come on, I've been following some of these celebrities since their novela days, others opened my eyes to the possibilities in Mexican cinema.
As the stars strutted their stuff down the 200-foot-long red carpet, the press stayed on the sidelines shouting the name of whatever celebrity was coming their way. Eventually the graceful and even not-so-graceful stars would wander over and answer the media's questions. Some blew kisses at the camera while the TV videographers (mostly men) all whistled and hollered. Others showed off by doing a little vuelta for the cameras.
Here are some highlights for the celebrity follower in you.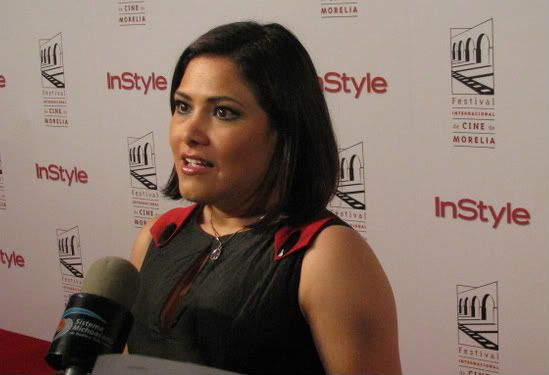 Remember her from Amores Perros? Yes, it's Vanessa Bauche. Since her breakthrough performance she's been in dozens of films and recently co-produced the documentary "Bajo Juarez," which I wrote about in my previous entry.
Before Ximena was Mexico's hottest jazz/pop star, she was Luz Clarita's evil step-sister. Yes, think back to your "Luz Clarita" novela-watching days. It's Mariela all grown up. Remember that cute/annoying Luz Clarita theme song? Yup, an 8-year-old Ximena sang it. Who would have thought she would eventually have an amazing voice. Oh, and that's her little brother in the background--her "red carpet date."
Ana Claudia Talancon was probably the actress with the most buzz, given the phenomenal success of the novela-turned-movie "Arrancame la Vida." But the highly sought-after actress was there promoting her movie "Purgatorio," which was getting a lot of hype at the festival. It is no surprise since the film is based on stories by the legendary Juan Rulfo.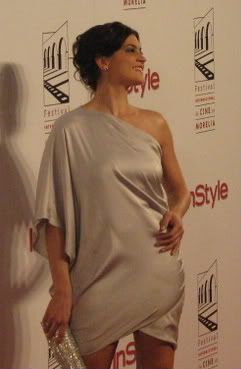 Irene Azuela strikes a pose for the cameras. She made her Mexican film debut with "El Bufalo de la Noche" and then later acted in several films including the disturbing "Quemar las Naves." She was promoting her new film, "Bajo la Sal."